Global health experts emphasized the importance of derisking and incentivizing R&D for ensuring effective delivery and access to vaccines and diagnostics at the RIGHT Foundation's fifth-anniversary forum in Seoul on Friday.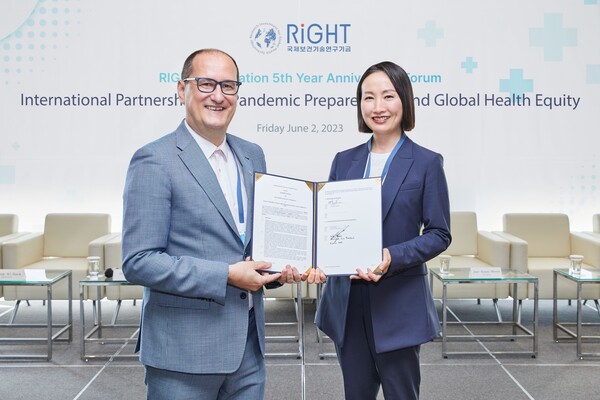 The anniversary was commemorated with the signing of a memorandum of understanding (MOU) with the Foundation for Innovative New Diagnostics (FIND) to pursue a joint fund for research in diagnostics as well as share FIND's technology and know-how with Korean diagnostic companies.
FIND is a non-profit global alliance for diagnostics based in Geneva, Switzerland.
In particular, Dr. Jessica Martinez, Senior Program Officer of Industry Engagement and Sustainable Access at the Bill & Melinda Gates Foundation (BMGF), acknowledged the RIGHT Foundation's leading role in ensuring that R&D strategies are developed with robust access plans.
"No one really seeks to make large profits from global health but we still need to ensure these products can be sustainable," she said, welcoming the doubled contributions from the Ministry of Health and Welfare (MOHW) to the RIGHT Foundation for its second five-year stint. "We believe that Korea can play an important role together in maximizing the untapped potential of the ASEAN region."
MOHW Vice Minister Park Min-Soo said the Korean government will play a role befitting its national character in the global civil society to support innovative vaccine research and rapid diagnostic technologies through the foundation.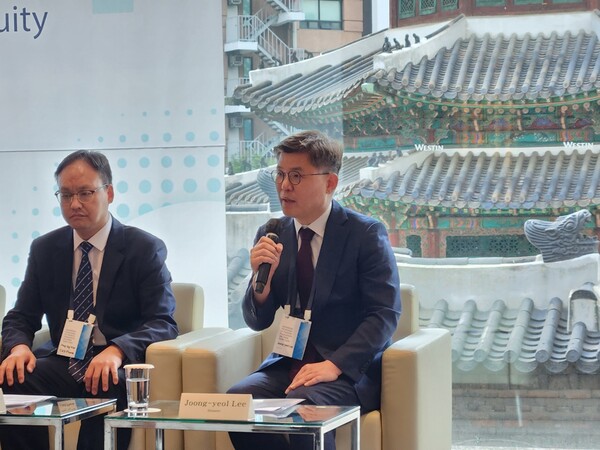 From an industry perspective, Bioneer's Senior Managing Director Lee Joong-yeol said, "We plan to initiate international clinical trials for our point-of-care tuberculosis (TB) diagnostic later this year with FIND, and will subsequently apply for WHO prequalification next year."
Accompanying him on stage were nine other Korean industry officials, including representatives from SK Bioscience, GC Pharma, KT Healthcare, and SD Biosensor, who highlighted their respective company's accomplishments, attributed in part to the support provided by the RIGHT Foundation.
Noul and Quadmedicine were announced as the newest members to join the RIGHT Foundation. EuBiologics increased its funding contributions to change its status from associate to full member.
KT Healthcare's Senior Vice President Yim Seung-hyouk emphasized that global R&D in digital health needs to be strengthened particularly for aiding infectious disease surveillance.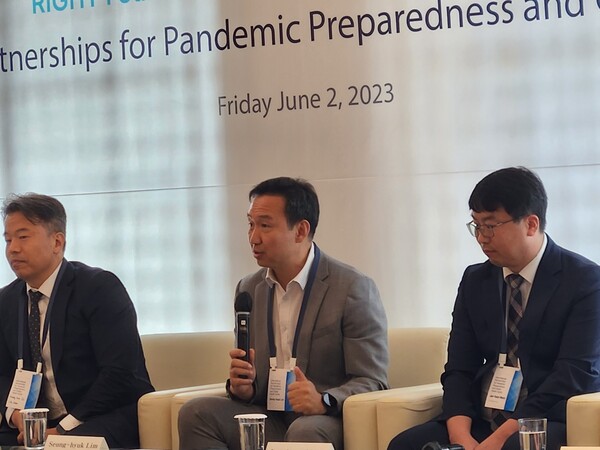 Yim referenced the company's SHINE app developed together with the BMGF to predict the probability of getting an infectious disease based on the user's location. He also explained that the same app can be applied to deploy vaccines and treatments more effectively but said that additional support is necessary to ensure better data can be collected for this purpose.
Additionally, EuBiologics highlighted three ongoing projects with the foundation such as the cholera conjugate vaccine, a typhoid vaccine, and a meningococcal pentavalent conjugate vaccine. The latter was most recently selected for funding to target the meningococcal belt in sub-Saharan Africa which is now experiencing an outbreak, said EuBiologics CEO Baik Yeong-ok.
"The foundation has transitioned from just five members at the beginning to 12 members presently," said the RIGHT Foundation CEO Hani Kim. "In the foundation's second phase, we believe that by 2027, three vaccines and four diagnostic products will be able to achieve WHO prequalification status to help close the 10/90 gap."
This gap refers to the reality whereby less than 10 percent of global spending on health research is devoted to diseases or conditions that account for 90 percent of the global disease burden.
Meanwhile, Dr. Peter Hortez of Baylor College of Medicine also cited the example of the world's first patent-free Covid-19 vaccine, Corbevax, which he helped develop.
"We have seen that it is possible to develop and supply vaccines at scale without being a multinational pharmaceutical company which is a model that can help improve health in low- and middle-income countries by producing and developing vaccines that are not commercially viable," Hortez said.
The RIGHT Foundation Chairman Sohn Myong-sei also added that the foundation's innovative official development assistance (ODA) funding model will continue to expand and develop innovative technologies so that Korea can contribute to the development of international health technologies.
출처 : KBR(https://www.koreabiomed.com)